Combien j'ai de point a placer dans mes charactéristiques a chaque lvl ?
- du lvl 2 à lvl 50 : 4 pts
- du lvl 51 à lvl 70 : 6 pts
- du lvl 71 à lvl 100 : 8 pts -
Source
A quoi sert chaque point de stats ?
Que se passe-t-il a chaque lvl ?

Quels sont les bonus selon les lvl ?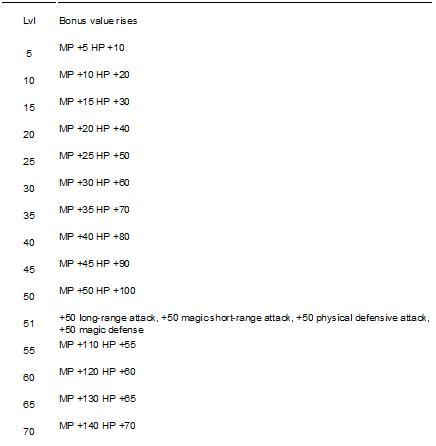 Petit utilitaire pour vous permettre de visionner vos characteristiques en fonction de vos points
http://rohanstats.cousincamponline.com/calculator.cfm
http://www.mesospl0x.com/rohan/characterbuilder.exe
Dernière édition par Arwenne le Ven 4 Juil 2008 - 16:47, édité 2 fois

Skill Points
Characters earn 1 skill point for every level-up. The hotkey (K) and skill icons in the menu at the bottom left of the interface displays acquired skill points and provides information on the skills you are using. 5~7 skill points are required to master a single skill. Characters will be molded according to skill classification: Elemental, Buff, Passive or Active and according to how many points have been invested in each skill.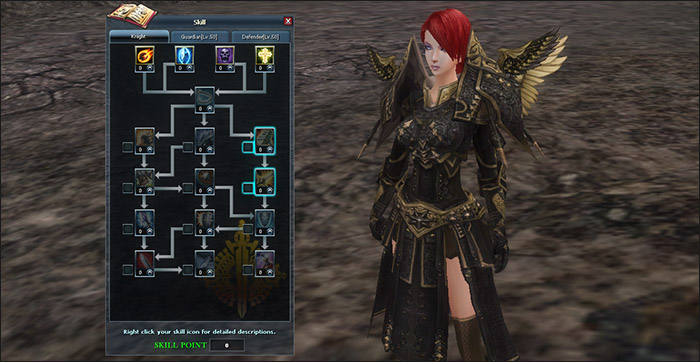 Investing skill points


Press (K) or the Skill button on the bottom menu bar to open your Skill window. This provides information on skills and displays the number of points available to spend.

Clicking on the skill icon's arrow will invest a point in the corresponding skill.

Right-clicking on the skill icon provides detailed instructions.

Using skill enhancement items, 1 point for up to every 5~7 skill points can be added according to a fixed rate.


Skill Enhancement Stone
Using skill enhancement items awards an additional point for skills that can be increased beyond level 5. No more than 5 skill points can be placed in a particular skill so enhancement items are required to level a skill past level 5. Skills that enhancement items can be applied to are indicated by a small box to the left of the skill icon.
To use skill enhancement items, at least 1 level must be invested in the skill. Skill enhancement items cannot be applied to Elemental skills and Level 1 Master Skill.
Inapplicable Skills: Elemental skills (Blazing, Frozen, Darkness, Divine, Invenom)
Level 1 Master Skill: Human (Taunt), White Mage (Cure Confusion, Divine Aura, Cure Silence, Kill Time, Teleport.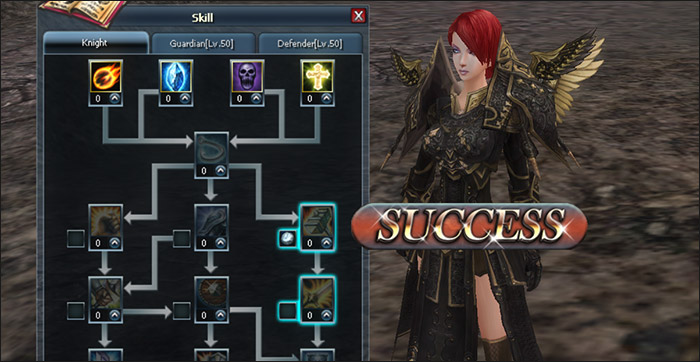 Using Skill Enhancement items


Open the Skill window and drag the Skill Enhancement Stone to the appropriate skill you wish to upgrade.

According to a fixed rate, 1 skill point can be added upon pressing the Enhance Skill button and the Enhancement item will be consumed.


---
Permission de ce forum:
Vous
ne pouvez pas
répondre aux sujets dans ce forum